For all your handyman needs
Regrout tile/tubs

Drywall Repair

Plumbing

Electrical

Air/Heat

Clean out garage

Fix attic space

Fence Repair
Carpentry

Repair Door

Repair Locks

Windows

Garage Door Repair

Dryer vent cleaned

Hang Shelves/Pictures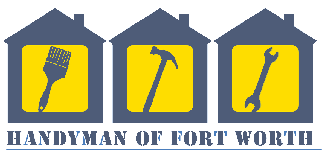 If you don't see what you need, just tell us what you need done.
Licensed, Insured, Bonded for your protection
Call us Today!

817-821-7920
Handyman of Fort Worth
Areas We Serve
Check the map below for the coverage area or call now.
Call now to schedule an appointment:
817-821-7920
Don't see your Fort Worth home in the coverage area?
Simply give us a call at 817-821-7920 and let us know about your project!